I just had to update MusicIP Mixer's database with BPM values and used a command-line exe as "tool" inside MP3Tag for this. I ran it on a sample 4,255 files and have the following feature requests:
Is it somehow possible to introduce an option not to show the DOS Box popping up for each and every file? This looks a bit crazy: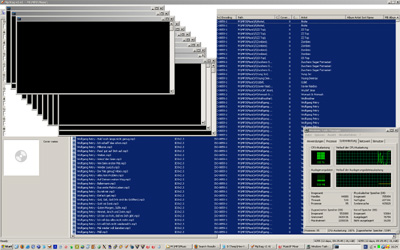 It seems MP3Tag spawns a new process for each selected song file, resulting in lots of processes running at the same time (and thus probably clobbering weaker machinery). In updating info for 4,255 files, I lost the info on 21 (which could be re-done).
Would it be possible not to run all processes at the same time but instead proceed to the next file in the list only after the current one has finished execution, i.e. handle all files sequentially? I guess this would make to "Tools" function much more versatile (if selectable), it could then also be used to spawn processes that can handle only one instance running.
Since most tools used would be small command-line tools anyway (I think), there'd be not many problems with having to keep a DOS window open and maybe wait for user input or the like.
What do you think?